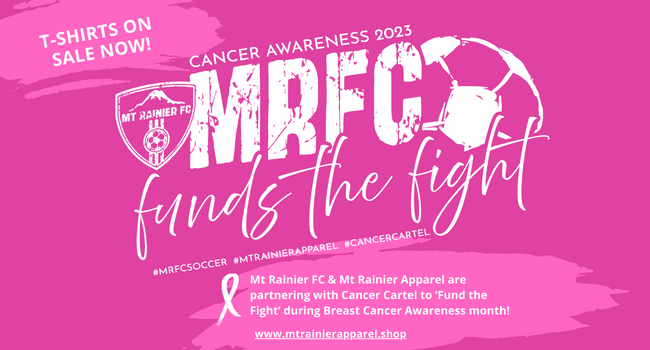 MRFC Funds the Fight During Breast Cancer Awareness Month
During Breast Cancer Awareness month, Mt Rainier FC and Mt Rainier Apparel have partnered with Cancer Cartel to "Fund the Fight" against cancer. Cancer Cartel is a local organization with a mission to provide financial resources and relief to cancer warriors by allowing them to focus on getting well without worrying about the cost of cancer treatment.
To support this cause, we have created a limited-edition T-Shirt that will be sold throughout October. The proceeds from the sales will be donated to Cancer Cartel, which will use the funds to help those in need in our community.
We urge you to help us spread the word by sharing our posts with your friends and family. The funds we generate will benefit our friends and neighbors. Together, we can make a difference in the fight against cancer.